History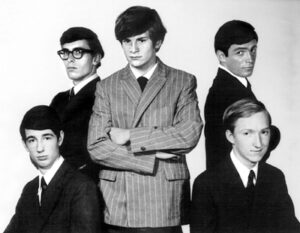 Who are the Box Tops?
The Box Tops are a ground breaking 1960s group from Memphis Tennessee who first charted in 1967 with a song called 'The Letter,' which like most of their other songs from the 1960s was recorded at Chips Moman's "American" recording studio and was produced by Dan Penn. In fact they were the first Memphis artists to record in Memphis and have a number one record! During 1967-69, the group released 4 albums (excluding their "Super Hits" album) and 10 singles. 'The Letter' remained at the top of Billboard's chart for four weeks in 1967; their third single, 'Cry Like A Baby,' hit the number two position for two weeks in 1968. Both records went gold at initial release, with 'The Letter' selling over four million copies and 'Cry Like A Baby' over two million.
The original members (Alex Chilton, Bill Cunningham, John Evans, Danny Smythe, and Gary Talley) were members of a local band called The Devilles, but changed the group name at the time of the release of 'The Letter,' because it was discovered that other groups had released records under that name and member changes had taken the group in new musical directions. "No American group since the Righteous Brothers had looked whiter and sung blacker than the Box Tops on that sensational first single in 1967, 'The Letter.' Alex Chilton's voice had more Memphis grit than was considered entirely proper for a white gentleman. But he learned to sing in Memphis, where lots of people sing that way, and got his musicians from a town where musicians are pretty heavy whatever their color."
By January 1968 the line up had changed. John Evans and Danny Smythe returned to school and were replaced by Rick Allen (from the Gentrys) and Tom Boggs (from the Board of Directors). This line up remained the same until Bill Cunningham left to return to school in August 1969, although Jerry Riley substituted for Gary Talley at live performances in 1968 for a couple of weeks while Gary was ill. Harold Cloud replaced Bill in September of 1969. During the following months there were a number of group member changes, and in February 1970 the group disbanded.
In 1996, the original lineup reunited and performed worldwide until the tragic and untimely death of Alex in 2010. After a five year hiatus, Bill and Gary (the only two original members still playing) teamed up to bring The Box Tops' music back to waiting audiences.
What instruments did the original members play?
Alex Chilton–lead vocal, guitar
Bill Cunningham–bass, keyboards, background vocal
John Evans–guitar, keyboards, background vocal
Danny Smythe–drums
Gary Talley–lead guitar, background vocal
What record company did they record for?
Originally the Box Tops recorded for Amy/Mala/Bell, a label out of New York City. Their singles were released on Mala label; albums on Bell. The company later became Arista and has licensed Warner Brothers records to release a Box Tops compilation CD. Separately, Arista has issued recent Box Tops CDs in the United States and Europe.
What songs did they make popular?
The Letter
Neon Rainbow
Cry Like A Baby
Choo Choo Train
I Met Her In Church
Sweet Cream Ladies, Forward March
I Shall Be Released
Soul Deep
Turn On A Dream
You Keep Tightening Up On Me
Were the Box Tops ever nominated for a Grammy?
Yes, the Box Tops were nominated for two Grammys in 1967. The following are the categories and the artists and songs in each. (By the way, the 5th Dimension's 'Up Up and Away' won in both categories.)
Best Performance By A Vocal Group
5th Dimension — Up Up and Away
Association — Never My Love
Beatles — Sgt. Peppers Lonely Hearts Club Band
Box Tops — The Letter
Monkees — I'm A Believer
Best Contemporary Group Performance, Vocal Or Instrumental
5th Dimension — Up Up and Away
Association — Windy
Beatles — Sgt. Peppers Lonely Hearts Club Band
Box Tops — The Letter
Monkees — I'm A Believer
Procol Harum — A Whiter Shade of Pale
Who were the session musicians on their various recordings?
Various members of American Studio's house band and Bobby Womack played on a number of tracks. The Aldridge sisters, Southern Comfort: [Jeanie Greene, Susan Coleman and Ginger Holladay], and the Sweet Inspirations provided many of the female background vocals; Dan Penn and John Christopher augmented the group's own background vocals from time to time. Horn performances were primarily contributed by Wayne Jackson, Jacky Thomas, Ed Logan, and Joe Arnold. Strings were played by Noel Gilbert, Robert Snyder, Ann Snyder, and Peter Spurbeck. (Note: Despite what you might read in books or liner notes, members of The Box Tops in addition to Alex Chilton participated in various Box Tops recordings, both as group [without session musicians] and individually [with session musicians].)
How did the Box Tops get their sound?
The Box Tops developed their sound from playing parties and clubs in the Memphis and West Memphis area. Though British Invasion groups like the Beatles, the Kinks, and Them had an influence on their musical style, the principal influence came directly from the Memphis blues and R&B artists and to a lesser extent from the blues and rockabilly sounds that came out of Sam Phillips' Sun records. Also, many in the group recognize Dewey Phillips (the crazed Memphis DJ who played whatever he thought was good regardless of the style or ethnic background) as a significant influence on the Box Tops' eclectic taste.