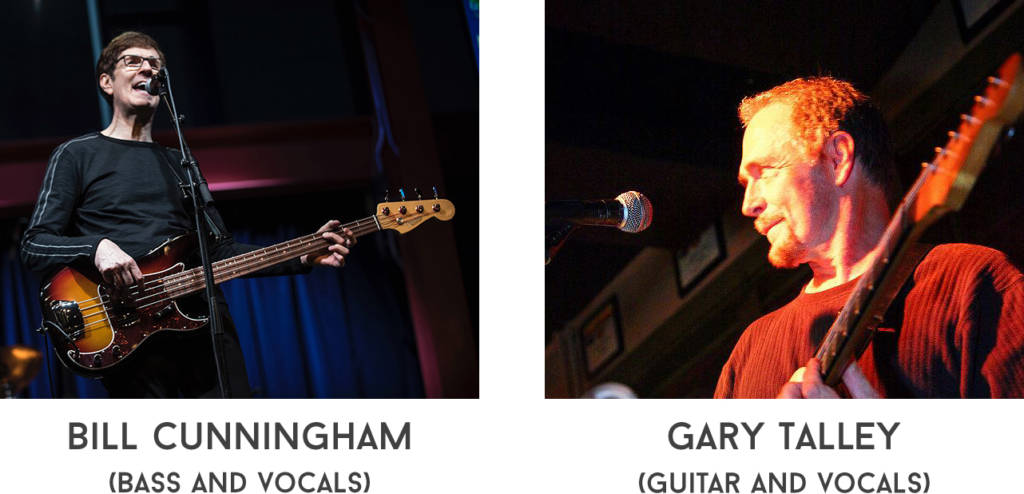 FOUNDING MEMBER BIOGRAPHIES

Bill Cunningham
Born January 23, 1950, Memphis Tennessee.
Plays bass (both bass guitar and upright bass), cello, piano, and organ.
Bill's father was a SUN recording artist and worked with Sam Phillips at SUN studio intermittently from 1953-61. He first recorded under the name Buddy Cunningham and later under the name Buddy Blake. Buddy was inducted into the Rockabilly Hall of Fame as the first percussionist on an Elvis Presley record. That session at SUN took place September 10, 1954 and included the following songs:


'Tomorrow Night, Blue Moon Of Kentucky, I'll Never Let You Go (Little Darlin'), Just Because, Satisfied, Good Rockin' Tonight, I Don't Care If The Sun Don't Shine'
Musicians: Elvis Presley, Scotty Moore, and Bill Black; Doug Poindexter – guitar, Buddy Cunningham – drum sounds

Bill's older brother, B.B. Cunningham Jr., was a member of The Hombres and sang and co-wrote the hit 'Let It All Hang Out.' He played bass for Jerry Lee Lewis for almost 15 years.
Bill played various instruments in a number of early 1960s Memphis bands, before joining the group that eventually became The Box Tops. One of these bands, The Jynx, included Chris Bell (who later founded Big Star). Between The Jynx and The Box Tops Bill played with another Memphis group called The Jokers, which included Richard Rosebrough who later would play on a number of Big Star, Alex Chilton, and Chris Bell recordings.
Bill remained a member of the Box Tops until September of 1969, when he decided to return to school to get a music degree in performance (upright bass).
Though Bill virtually vanished from the pop music scene after he left the Box Tops, he rose in the ranks of classical musicians, playing in many symphony orchestras and in ballet and opera companies throughout the Midsouth while attending university. During this period he backed in performance artists as diverse as Eddy Arnold, Van Cliburn, Isaac Hayes, the Romeros (Spanish guitarists), and Dionne Warwick.
For a brief period Bill became a resident of Germany and worked, studied, and traveled in many European countries.
During work on his Masters Degree in music (back in the United States), Bill worked with Chris Bell at Ardent Studio, providing the string arrangement for Chris' "You And Your Sister. " Around this period, Bill competed with numerous bassists from across the country for an opening in the White House orchestra in Washington, DC. He won and moved to Washington. In the mid to late 1970s, he played for most White House dinners, receptions, and special quest performances for Presidents Ford and Carter and for many State Department celebrations for Secretaries of State Kissinger and Vance. During this period Bill played for numerous dignitaries, including the Queens of England and Holland, as well as various heads of states from around the world. Also, during this period Bill recorded sound tracks for a number of TV specials, including some with Jim Henson and the Muppets.
Throughout his classical music career he played with many of the world's best known performers and conductors. For example, Bill's last classical-music public performance was backing Itzhak Perlman and Pinchas Zukerman in a White House celebration at the signing of the Camp David Accord ( the Middle East peace agreement signed by Sadat, Begin, and Carter).
In 1979, Bill was studying in Philadelphia with Roger Scott, the principal bassist of the Philadelphia Philharmonic, when he decided to change professions. This shift led to a MBA (Master of Business Administration) degree in international business and to a profession that assists with U.S. bilateral and multilateral trade issues.
In 1996, Bill played the principal role in reforming the original Box Tops. He played bass and shared responsibility for keyboard parts with John on the 'Tear Off' album. Bill toured with the group from 1997-2010, holding down the bottom end on stage with his bass lines.
In 2015, Bill teamed up with Gary to bring back The Box Tops' music to audiences, playing bass and sharing vocal responsibilities.
---

Gary Talley
Born August 17, 1947, Memphis Tennessee.
Gary's mother was a church pianist and his father plays guitar.
Gary Talley plays guitar in a multitude of styles, ranging from a raw blues style to a country steel guitar sound. He played with the Memphis band the "In Crowd," before joining the group that would eventually become the Box Tops. He remained a member of the Box Tops for the groups' entire life. (Besides Gary, only Alex Chilton can make that claim!)
After leaving the Box Tops in 1970, Gary was chosen as staff guitar player for "Sounds of Memphis Studio" where he worked with artist such as Hank Ballard, rockabilly pioneer Billy Lee Riley, and David Allen Coe. While in Memphis Gary later worked with Ace Cannon at Willie Michell's "Hi Studio" and with Jerry Butler, Marcia Moore, and the Three Degrees at Universal Recording Studio.
In 1971, he moved to Atlanta GA to work on publishing demos with Bill Lowery Publishing and to record jingles at "Doppler Studios." During this period, Gary play and sang on national TV and radio commercials for Dodge vans, Delta Airlines, McDonald's, Chapstick, Winn-Dixie, Long John Silver's, and others. He also played on a national TV jingle for Coca Cola, which featured Billy Joe Royal.
During the 1970s, Gary played concert dates with artists such as Freda Payne, Tennessee Ernie Ford, John Phillips (of the Mama & Papas), Billy Joe Royal, Pat Boone, and Jimmy Rogers.
In 1981, Gary was invited to Nashville by legendary producer Chips Moman and recorded with Willie Nelson, Waylon Jennings, Tammy Wynette, Webb Pierce, Billy Joe Royal, and others. Since 1981, he has worked with a diverse roster of artist, including Dobie Gray, Tracy Nelson, Pam Tillis, Dr. John, Brenda Lee, Tim McGraw, Bill Miller, Bobby Bare, Mac Gayden, Johnny Lee, Stella Parton, Shelly West, Clifford Curry, Earl Gaines, Fish Heads & Rice, Billy C. Farlow, Porter Wagoner, Karen Staley, Dean Dillon, Guy Clark, Paul Craft, Sheb Wooley, Ferlin Husky, and David Lee Murphy.
In 1992, Gary was band leader and guitarist for Canadian country star George Fox. As such he played on the "Mustang Heart" album and toured Spain and Switzerland.
Today, Gary plays guitar for Sam Moore ("Sam" of Sam & Dave). Of course he also plays his original role as lead guitarist for the Box Tops! He is also a well-known guitar teacher in Nashville, specializing in teaching songwriters and recording artists.
In addition to his guitar work, Gary has developed a significant song writing career. His songs have been recorded by the Box Tops, James Cotton, and Keith Whitley, T.G. Shepard, Danny Davis, FishHeads & Rice, Don Nix, and several European artists. The Nashville Publisher's Network chose a song that Gary co-wrote as the first song for their compilation CD.
In 1996 Gary joined his fellow original Box Tops in the recording studio and began touring with the group. He plays lead guitar and electric sitar on stage and in recordings. Gary's experience as music director in other groups led to a similar role with the Box Tops, during 1997-2010. Also, his well-developed songwriting skills are reflected in "Last Laugh", a song on the 'Tear Off' album.
In 2015, Gary teamed up with Bill to bring back The Box Tops' music to audiences, playing guitar and sharing vocal responsibilities.
---

Alex Chilton
Born December 28, 1950, Memphis Tennessee.
Prior to the Box Tops Alex sang in various Memphis groups. One of these groups included Bill Cunningham and Chris Bell (of Big Star), although Alex only briefly worked with them at the time.
After the Box Tops disbanded, Alex returned to Memphis where he joined Chris Bell's power trio, Ice Water. They changed their name to Big Star and recorded two albums which, while unsuccessful at the time, had a huge influence. After Chris' departure from Big Star in 1974, Alex pieced together the unfinished second Big Star LP 'Radio City.' Big Star's 3rd Album (aka 'Sister Lovers') essentially marked the beginning of his solo career. With songs such as 'Holocaust,' which was about pre-suicidal numbness, and 'Kangaroo,' with feedback of representing the nervous electricity of a first touch of a new love, Big Star's label, Ardent, was dumbfounded and withheld the album's release until 1978.
Meanwhile, Alex recorded several tracks with Jon Tiven in Memphis, which emerged in various guises (notably the 1980 album Bach's Bottom). In 1979, Alex, Chris Stamey and Richard Lloyd briefly formed Alex Chilton & The Cossacks and relocated to New York, where they played the rounds with the Ramones, Television and The Cramps.
His solo rehabilitation began in earnest when he climbed on stage with The Replacements in 1986 (the band had released a single entitled 'Alex Chilton' in his honor), following up with the solo album 'High Priest' (1987).
Alex continued to gig and record on a pretty regular basis, reverting to his 'roots' in (fairly restrained) classy soul on record, while emitting flashes of his uncontrollable anarchic spark on stage. In 1993, he re-formed Big Star, whose influence on young bands on both sides of the Atlantic (notably Teenage Fanclub) was by now explicit. In 1995 Alex recorded and released a solo album, 'A Man Called Destruction.'
In late 1996, Alex and the other four founding members of The Box Tops began to record an album that reflects early influences on the group. The album, 'Tear Off' was released in March 1998. From 1997 until his unexpected passing in 2010, Alex toured with the other original Box Tops.
---

John Evans
Born June 18, 1948, Memphis Tennessee.
John was introduced to popular music at a very early age through the influence of an older sibling and his father played music semi-professionally. John began piano lessons at the age of six and played trumpet and baritone horn his junior high school band. Then, at fifteen he got a guitar for Christmas and within three months helped form a band called the Signets, which later transformed into a group called the Chantelles. John played in several local groups, one of which (the In Crowd) included Gary Talley, before joining Ronnie and the DeVilles (which later became known as the Box Tops). He remained with the Box Tops during the recording of the first two albums and the first three singles.
After returning to Memphis from military service with the Army Corps of Engineers in Germany, John repaired and customized guitars and taught guitar at a number of established music stores. He had built an electric twelve-string guitar he had used in the Box Tops (now part of The Hard Rock Cafe collection) and wanted to learn more about the luthier craft . The custom guitar played by Steve Cropper in the prison concert scene of the movie 'The Blues Brothers' is an example of John's luthier work from that period.
Also, he played with a Memphis comedy rocker group, The Maffers, who recorded a never-released album and a single for STAX's/VOLT records just as STAX was forced to go out of business. Later John performed as part of an acoustic duo with a former member of the group Cymarron (who recorded the hit 'Rings'). After winning an open audition before Max Baer, Jr., they performed an original tune, 'Memphis Thelma,' as part of the Choctaw Ridge Runners in the movie 'ODE TO BILLIE JOE.' Later, John joined old school friends to form an oldies group, the Scepters, that included Danny Smythe.
In the early nineties John earned an honors computer degree and works as a computer network administrator.
In 1996, John joined the other four founding members of the Box Tops in their recording and touring efforts. As before, he played rhythm guitar/keyboard on the group's recordings and during live performances. In 2000, due to increasing computer-field demands, John had to quit the band.
---

Danny Smythe
Born August 25, 1948, Memphis Tennessee.
After quitting the Box Tops in December 1967, Danny formed a 15 piece soul group call the Fifth Movement, a group built based on influence from Danny's having toured with Wilson Picket and other soul acts as a member of the Box Tops in the autumn of 1967. The Fifth Movement played assorted college venues around the Midsouth for approximately four years. Afterward, Danny began playing in Memphis nightclubs with a blues oriented band, which included Don McMinn and which allowed top Memphis musicians to sit in on sets.
Toward the end of the 1970s, Danny turned away from music and toward art for a living. (He studied art in the university.) Danny climbed from artist who painted murals in restaurant and hotel lobbies to Art Director of the company that had hired him. Since 1982, he has remained a freelance illustrator, painting photo-realistic illustrations of products for the top U.S. advertising agencies.
In addition to his illustrator work, from 1993 until 1995, Danny returned to music by joining several "oldies" groups. As a result, Danny and John Evans found themselves playing together once again in a revived version of their pre-Box Tops band, known as the Scepters. When Danny moved from Memphis in 1995, John and Danny parted once more.
Like the other four founding members of the Box Tops, since 1996 Danny began to record with the group again. From 1997-2010, he played plays drums with the group in live performances. In addition to his percussionist role on the 'Tear Off' album, Danny designed the album cover!
Danny Smythe passed away July 6, 2016.